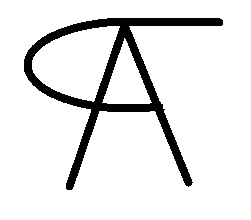 How do you sign your work? Do you have a special signature?

I do. And this image above is humbly small. I couldn't resize it. Obviously I am very new to my very new website.
This specail signature which I have been signing my paintings since at least 1996 has been created by my dear mom. She turned out to have a genius mind! It is not just an "A "looking letter it is a combination of three firs letters of my first, middle and last names in Russian. We use Cyrillic alphabet so no latin letters can be found. I love this signature so much I put it on my official stamp to solid my art with true authenticity.

Signing your work is crucial, it is vital to put that last finishing touch to firmly seal the name of the creator. Leave that signature in history for posterity. You never know what travels your art piece will make. It might be discovered one hundred years later in a desert and no one will know who it is unless it is signed.
Make sure to always sign your masterpiece (or just an art piece)